Ok...so I think I AM gonna do this.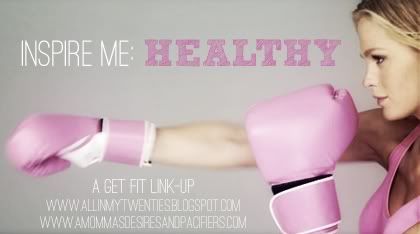 No, really, I promise I am gonna do this.
You see, I was on this health kick over two years ago.
I was up at the crack of dawn, hitting the gym in the morning and stomping the pavement that same afternoon.
I loved how I felt and I loved going running everyday!

Then life happened...
I quit my job to start my year long grad school internship.
After graduation followed a few months of unemployment and then I finally started my 1st year of work in the education system, the job I had buried myself in books for for over 4 years...yeah THAT job!
To say the least, I hit a bottom.
Not only with my health, but also with my self-esteem, my marriage, my friends, and everything else in between.
You could say I "let myself go".

Fast forward to today: parts of my life are back in shape.
I am loving me for who I am, for my mistakes, and for all of the things I have learned!
HOWEVER...
I am still working on making my fitness my daily routine.
Summer time came and went...and I was doing awesome during the last 2 weeks before work started. Unfortunately, work began and I just stopped going, doing, running, eating healthy...regularly.

But today...TODAY: I am happy to say I went to the gym!

****HOORAY FOR MEEEEE!!!!!****
I know it was only one day, but I want it to be the first day of many to come in one week.
I am not doing this because I hate the numbers on the scale, because I don't let them define my health. I am doing this because I want to be back at my peak. I want to be healthy in mind, body, and soul. I will know I have reached my goal when my clothes are not so tight and when I can feel confident wearing those skinny jeans and body forming shirts!!
Here is my "post work out pic" from a month ago...I hope I can have many more photo ops like these...without the ghostly looking face!!
Wanna join me in this adventure?