Hello lovely!
Thank you for your interest in my Traveling Pants! I'm glad you found your way to my little blog. You are amazing in my book already!

I want to help other lovely readers find your awesome blog!
So why don't you and I Swap Blog Buttons?!
Email me at andiestravelingpants [at] gmail [dot] com if you have any questions!
GRAB MY BUTTONS!
200x200
200x200
200x200
175x175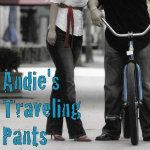 250x100